Northampton: Derelict Greyfriars site 'adds' to town's 'decline'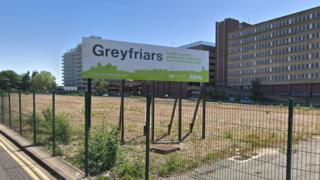 A former bus station has "limitless" potential for the public while its long-term future is decided, according to a councillor.
Greyfriars bus station dominated the Northampton skyline for 40 years before it was demolished in March 2015.
Liberal Democrat Sally Beardsworth says the empty site "adds to the sense of decline in Northampton town centre."
The council said it was talking to developers, and had engaged advisors to look at the best use of the site.
In a motion to be put before a meeting of Northampton Borough Council on 5 November, Mrs Beardsworth will call for the Conservative council to draw up options for a temporary use of the land in 2019 for "the public's benefit".
"If you look at Greyfriars there's absolutely nothing," she told the Local Democracy Reporting Service.
Plans for a homes and leisure complex went "back to the drawing board" last year.
Mrs Beardsworth suggested the site could be turned into "a small running track" available for pedestrians and cyclists, or grass areas with benches or play equipment, adding "the ideas are limitless".
The long-term future of Greyfriars, on Lady's Lane, has been uncertain since talks broke down with developers last year over plans for a complex that included student accommodation, flats, a cinema and a number of restaurant chains.
Northampton Borough Council said: "In view of the fast changing nature of retail, we are engaging advisors to help inform the best use of the site before we go to market. In parallel with this we are engaging with developers who continue to show interest in the site."
The motion will need the support of the ruling Conservative council to progress.