Northamptonshire: Council gritter cuts could 'hit' elderly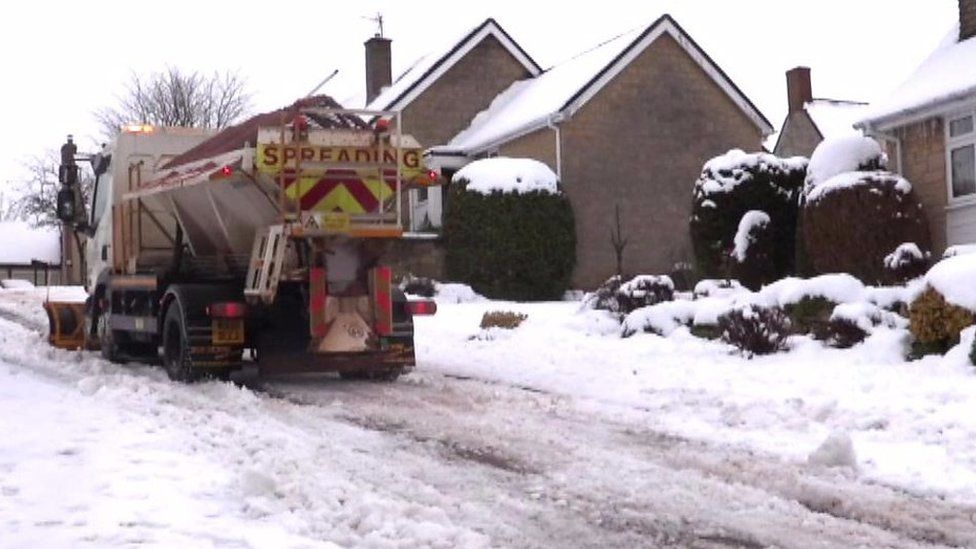 A council has admitted that plans to save £475,000 on winter gritting could affect elderly and disabled people.
Cash-strapped Northamptonshire County Council has decided not to treat nearly 500 roads for ice.
Health bosses in Corby have expressed concern about the possible impact on "vulnerable people", which could leave doctors and nurses "unable to get into work".
A council spokesman said roads would be gritted in "extreme conditions".
Northamptonshire County Council, which has to save £65m before April, has told contractors to grit 32% of the road network this winter, instead of the 43% it treated last year.
An equality impact assessment carried out by the authority said: "Reductions in the gritted network will likely affect rural communities.
"Taking into account the feedback received, this proposal has been assessed as possibly having a negative impact on older people, disabled people and people living and travelling in rural areas."
During a meeting at NHS Corby Clinical Commissioning Group (CCG), Nathan Spencer, a doctor at Great Oakley Medical Centre, said he was concerned about the possible effect of the cuts, according to the Local Democracy Reporting Service.
"The implication is we have vulnerable people who may not be able to attend GP or hospital appointments," he said.
Both Nene and Corby CCGs said they had concerns which they were hoping to discuss with senior staff at the county council.
A spokesman for the council said that "given the financial challenges faced and a very difficult budget position", it had been forced to make "further tough decisions".
"The routes which have been taken off the council's precautionary network are now on what is known as the adverse network," he said.
"It consists of roads which are gritted when snow conditions are declared. Therefore in extreme conditions, these roads will be gritted."
Related Internet Links
The BBC is not responsible for the content of external sites.