Salcey Forest: Plans to reopen tree top walkway revealed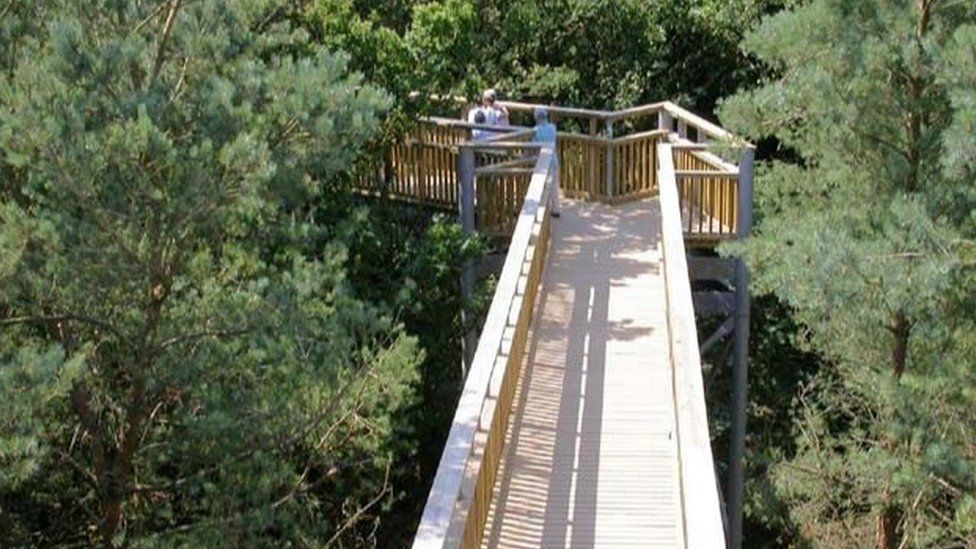 A popular tree level walkway could reopen after the Forestry Commission revealed it was seeking ways to fund the project.
Tree Top Way, a raised wooden platform in Salcey Forest, Northamptonshire, closed in May due to safety concerns.
More than 32,000 people have signed a petition calling for it to be saved.
The Commission, which manages the forest, hoped to preserve the walkway by reconstructing the lower section after getting advice from engineers.
"We are now currently considering the best way to fund these changes [to solve potential structural problems]," said a Forestry Commission spokesman.
"We know it is treasured by locals and visitors alike, and that it has become an important part of the community."
The news was welcomed by South Northamptonshire Council.
Its leader Ian McCord said: "We stand ready to give any help or assistance we can.
"If there is a will there is a way. We will do whatever we can to ensure any planning issues can be resolved."
The forest walkway, south of Northampton, rises to 15m (49ft) above the ground, with a crow's nest platform at 20m (66ft).
The walkway opened in 2005 and was estimated to attract about 250,000 visitors a year.
Related Internet Links
The BBC is not responsible for the content of external sites.