Bungle the chow-chow: Family thank public for puppy support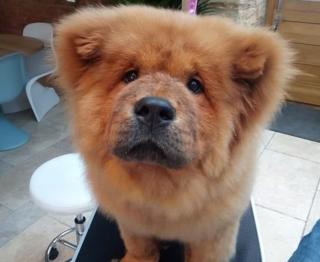 The owners of a puppy locked up for biting a police officer have thanked the thousands of people who called for his release.
Bungle the chow-chow was held for more than four days after escaping from home, sparking anger among pet lovers who demanded he was allowed to return.
He was seized under the Dangerous Dogs Act but returned on Thursday.
The fluffy pooch's family said on Facebook the support for Bungle's plight had been "amazing".
Almost 7,000 people joined a campaign demanding four-month-old Bungle be freed.
The pup faced being caged for an indeterminate period while Northamptonshire Police investigated whether his owner had committed any offences under the Dangerous Dogs Act.
But he has been reunited with his owners after they agreed to a Voluntary Control Order (VCO).
Owner David Hayes said on social media the pet had managed to sneak out of the family home in Stoke Bruerne, near Towcester, on Friday.
Bungle was detained after being spotted under a lorry by an officer, who was bitten as he tried to grab the dog.
Mr Hayes' 15-year-old son Joseph wrote on Facebook: "We want to thank all of you on this page for your support and reactions to Bungle's plight. It has been amazing and so supportive."
He apologised to the officer who was bitten, and said the dog would be back at his "weekly puppy training on Saturday morning".
Ch Supt Chris Hillery from Northamptonshire Police said the officer who seized the dog had his "full support", that Bungle was returned after a "proportionate investigation and risk assessment" and the decision had not been influenced by media reports of support for the dog.
You may also like: