Northampton shared-house killing: Spencer Hobson jailed for life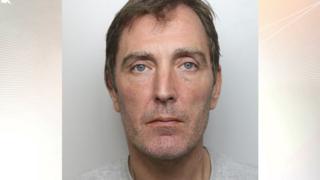 A man who stabbed his housemate to death and then went downstairs to smoke crack cocaine has been jailed.
Spencer Hobson, 50, attacked Chris Matthews, 41, at a house in Northampton for homeless people recovering from drink and drug problems on 21 June.
Northampton Crown Court heard Mr Matthews had been so scared of Hobson he had taken to sleeping rough.
Jailing Hobson for life, Judge Rupert Mayo said it had been a "senseless, brutal and selfish killing".
He ordered him to serve at least 18 years in jail.
Prosecutor John Lloyd-Jones said Hobson, who admitted murder in October, had a "deep dislike" of his victim.
Mr Matthews had told the Richmond Fellowship, which runs the service at Victoria Gardens, how Hobson had previously punched him in the face, held a knife to his throat and kicked his door down.
On the day he was murdered he had told staff he wanted to move out, but returned to the house because alternative accommodation was not yet available.
The court heard Hobson had nearly been evicted several times after falling out with previous housemates.
Mr Lloyd-Jones said Hobson had told a friend he had tried to strangle Mr Matthews, and that he had a knife and knew how to kill him.
He said that on the night of the murder, Hobson had been begging in Fish Street, Northampton, where he argued with a drunk Richmond Fellowship worker.
She told him that she knew about Mr Matthews' complaints and to "enjoy being homeless".
Hobson went straight back to Victoria Gardens and killed Mr Matthews in a fit of rage.
Isabella Forshall, defending, said the murder would not have happened without this contact.
After the killing, Hobson smoked crack cocaine with a friend.
He then went to his estranged wife's home where he told her what he had done, while drinking cider and smoking more crack.
The following morning he went to police and admitted to murder.
Officers and paramedics found Mr Matthews dead with 12 stab wounds to his chest and back. His heart and both lungs had been pierced.
A blood-stained kitchen knife, with a 24cm (9in) blade, was at the top of the stairs.
'Much-loved' man
Hobson's previous convictions included dishonesty, burglary, arson, criminal damage, assault, threats to kill and unlawful possession of knives in public.
In November 2000 he was jailed for 10 years for wounding with intent, with five years to run concurrently for threats to kill.
Mr Lloyd-Jones said Mr Matthews had developed problems with drink and drugs shortly before turning 40, but that he was a "happy, positive" and "much-loved" man.
He had three children, but had become separated from his wife, Joanne, in December 2016 because of his drinking.
In an impact statement, she said he was "entirely harmless," while his mother said her "dreams are haunted by what he must have endured".
Det Insp Stuart Hitchon, from the East Midlands Special Operations Unit Major Incident Team, called the murder "violent and senseless".
In a statement, the Richmond Fellowship said its thoughts were with Mr Matthews' family.
It said it had carried out a "thorough review, including examining the actions of our staff" and "identified improvements in how we conduct our housing assessments of tenants".