Northampton Borough Council audit 'could cost £400,000'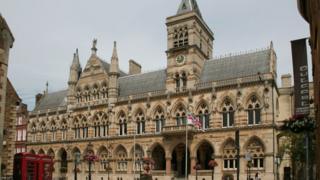 A local authority embroiled in a long-running "missing millions" probe could see its predicted £80,000 audit bill increase fivefold, councillors warned.
Auditor KPMG says Northampton Borough Council is 11 months behind with its 2016-17 accounts - and the bill has already risen to £280,000.
The council's audit committee said the final cost could be £400,000.
It adds to the authority's financial woes as it seeks to recoup £10.25m loaned to the town's football club.
All public bodies are expected to submit annual financial accounts to appointed local inspectors - in this case KPMG - following the abolition of the Audit Commission in 2015.
The Conservative-run council blamed a high turnover of employees, or "staff churn", for the delays in submitting paperwork.
Its bill is set to escalate further because KPMG is not expected to sign off the 2016-17 accounts until January, the Local Democracy Reporting Service (LDRS) said.
Officials also failed to provide documentation for the accounts in good time, the committee was told.
'Significant delays'
KPMG director Andrew Cardoza said: "Whilst the audit team have been working evenings and weekends to pick up the remaining information as soon as it has come through, the significant delays have had a knock-on effect to the completion of our work."
Ian Orrell, the independent chairman of the authority's audit committee, said the finalised accounts would be shared early next year.
"My preferred approach would be for us to wait until January and for them to be absolutely finished," he said.
"I would rather all members had the opportunity to see the accounts, and not leave it to myself and Stuart McGregor [chief finance officer] to sign it off behind closed doors."
Northampton Borough Council is at the centre of a four-year battle to recoup a £10.25m loan to Northampton Town Football Club.
A judgement is due in the near future in the High Court case involving the former owners of the football club.