Invernomuto: Artists 'relate' to Northampton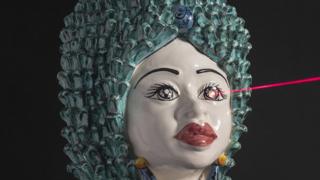 Acclaimed Italian artists have said they can "relate" to Northampton after choosing it for their first UK solo exhibition.
Simone Bertuzzi and Simone Trabucchi, known as Invernomuto, use imagery, sculptures and rap music in their work.
The duo, from Vernasca, in Italy, are holding the exhibition at the NN Contemporary Art gallery until August.
"We grow up in a city with dynamics very similar to this one so we understand it," Bertuzzi said.
"We understand why it is important to bring certain things here. And also why it is difficult. We relate with these kind of places."
The pair described the town as an "interesting place", with a "suburban and urban area away from the big centres".
Invernomuto have collaborated with musicians such as Lee "Scratch" Perry and French group PNL.
Gallery curator Emer Grant said she had told them about the "specific scene emerging" in the town.
"It seems to be a particular moment in Northampton with artists like Slowthai and the grime scene here," she said.
Slowthai, 24, a rapper from Northampton, reached number four in the BBC's Sound of 2019 poll and released his debut album "Nothing Great About Britain" in May.
Ms Grant said she was "excited" about the exhibition, adding it was "the right place and right time".
She said the exhibition was about bringing "stunning, critically acclaimed artworks" to Northampton, rather than focusing on the town itself.
The town, with a population of about 215,000, is renowned for its boot and shoemaking history, which dates back almost 900 years and continues to thrive.
Its high street has recently been hit by some high profile store closures, prompting local celebrity and broadcaster the Reverend Richard Coles to describe it as "decaying".