Lambs and sheep 'butchered' in attacks in Northamptonshire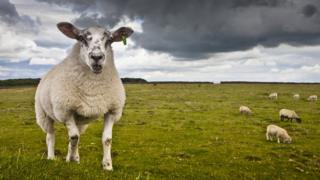 More than 40 lambs and sheep have been "professionally slaughtered" in farmers' fields in a spate of attacks.
Police described the four incidents across Northamptonshire in the past week as "extremely concerning". In most cases the carcasses were stolen.
In the latest attacks, on Saturday, at least 10 sheep were killed and stolen and a lamb was found tied up.
"This is not only very upsetting, it also has financial repercussions," said Insp Scott Little.
'Feel like giving up'
In the first attack, 14 lambs were killed in a field off the A428 between Crick and West Haddon, some time between last Sunday afternoon and Monday afternoon.
Twelve of the animals were stolen and two carcasses left in the field, with a graphic image of the remains shared 2,900 times on Facebook.
Farmer Phil Neal said the dead livestock were discovered by his wife and two young children during their usual stock check in what he described as "the worst thing that my children have witnessed".
"Words cannot describe how I feel after all the hard work and love that goes into our stock. Today I feel like giving up," he said.
Twenty-one lambs were killed and stolen some time between Tuesday morning and Wednesday morning in Whilton, near Daventry.
On Saturday, the remains of at least 10 sheep were found in a field on Harrington Road, Kelmarsh, and a lamb was found injured and tied up with electric fence wire in Boughton Road, Moulton,
Police have appealed for dashcam and CCTV footage and urged farmers to remove any loose fencing and pens in fields and store them securely.
"Officers will be visiting farmers and landowners on their patch over the next few days," Insp Little added.
Officers had previously said it was "unlikely" the meat would be sold locally.