Harry Dunn crash: Parents 'will go to US if we have to'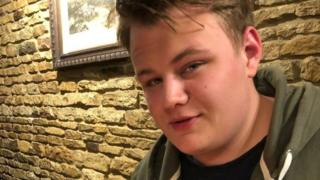 The parents of a teenage motorcyclist killed in a crash have said "we will go to Washington if we have to", to secure the return of a US diplomat's wife suspected of driving the other vehicle.
Harry Dunn, 19, died in a crash with a Volvo in Northamptonshire on 27 August.
Anne Sacoolas, a suspect in the crash, later left the UK despite telling police she had no such plans.
Prime Minister Boris Johnson has urged the US to reconsider its decision to allow her immunity.
Meanwhile, both Northamptonshire's chief constable and police and crime commissioner have urged the Americans to waive Ms Sacoolas's diplomatic immunity.
'Appalled and devastated'
Tim Dunn, Harry's father, told the BBC: "With Boris Johnson saying what he did, it was nice to feel actually we were getting the support we were trying to get.
"Maybe President Trump will look at this and hopefully look in our favour."
Harry's mother, Charlotte Charles, said: "We have spoken to some American news channels, we've got others lined up. The message is clearly getting out across there.
"The messages of support we've had from the US have been immense. They're all appalled and devastated for us and disgusted that this woman has been allowed to leave the UK."
Ms Charles said: "We are determined to see it through, we won't stop. We will go to Washington if we have to, we've taken [legal] advice on that."
She said they would "plead" to President Trump to not only waive Ms Sacoolas' diplomatic immunity, but also "look at the laws" around diplomatic immunity
"With the amount of diplomats we have in the UK, we can't have someone go out and do something like that again and leave another family to suffer," she added.
Foreign Secretary Dominic Raab, has spoken to the US ambassador Woody Johnson, and raised the case in a telephone call with Secretary of State Mike Pompeo.
A Foreign Office spokesman said Mr Raab had "reiterated his disappointment with the US decision and urged them to reconsider".
What happened to Harry Dunn?
Harry Dunn died after his Kawasaki motorcycle was involved in a crash with a black Volvo XC90 at about 20:30 BST on B4031 Park End in Croughton close to the RAF base, on Tuesday, 27 August.
He was taken to Radcliffe Hospital in Oxford where he died a short time later.
Northamptonshire's chief constable Nick Adderley said that "based on CCTV evidence", officers knew that "a vehicle alighted from the RAF base at Croughton" and was "on the wrong side of the road".
He said the suspect, Anne Sacoolas had "engaged fully" following the crash and said "she had no plans to leave the country in the near future".
What is diplomatic immunity?
About 23,000 individuals in the UK have diplomatic immunity, a status reserved for foreign diplomats and their families, as long as they don't have British citizenship.
It is granted by the 1961 Vienna Convention and means that, in theory, diplomats cannot face court proceedings for any crime or civil case.
The convention also states that those entitled to immunity are expected to obey the law.
Where crimes are committed, the Foreign Office can ask a foreign government to waive immunity where they feel it is appropriate.
In 2017, there were 12 serious offences committed by people entitled to diplomatic protection.
Five of these were driving related, but other crimes included sexual assault, blackmail and possession of a firearm.
Diplomatic immunity is by no means restricted to those named on the Diplomatic List from the Foreign and Commonwealth Office.
Drivers, cooks and other support staff whose names do not appear, but have been accredited to Britain ("the receiving state") have the same diplomatic status and immunity as those who are listed.
Equally, there are a number of foreign nationals in Britain attached to international organizations who have the same status and protection.
How is the story being covered in the US?
Imtiaz Tyab, Correspondent CBS News
The US is going through some pretty extraordinary times at the moment.
But somehow this story has really struck a chord with many Americans and I think that is because at its heart you have two parents grieving the loss of their son.
What's also so different about this story is this idea of diplomatic immunity.
That doesn't sit right with a lot of people we've been hearing from either commenting on our reports or through social media.
Many of them say Anne Sacoolas should be back in the UK and should meet with the family of Harry Dunn.