Harry Dunn's father meets Priti Patel amid extradition talks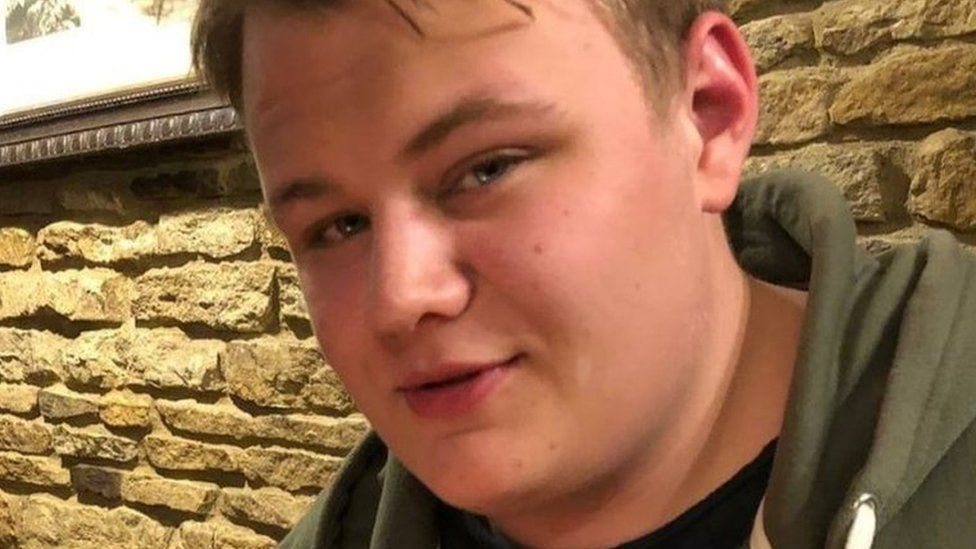 Harry Dunn's father has met the home secretary, as her department considers requesting the extradition of a US woman charged over his death.
Priti Patel visited the Dunn family lawyer's home in Northamptonshire.
The family said they were "incredibly reassured" to meet Ms Patel, who was accompanied by their local MP Andrea Leadsom.
The home secretary said she had met the family to explain the extradition process to them and spoken to Mr Dunn's father, Tim Dunn.
She said: "It was a nice opportunity to hear from them, obviously about what they have been experiencing, what they have been going through, and to reassure them at what has been a very difficult and traumatic time for them."
Family spokesman Radd Seiger said they were now "incredibly reassured this whole saga will be dealt with under the rule of law".
"You hear from some of the most senior politicians in this country... they are going to go to bed tonight feeling reassured."
Mr Dunn said it had been a "positive meeting" and a "great way to end the year", but Christmas would be difficult without his son.
He said: "He loved Christmas... people have one Christmas jumper, Harry would have four... every day he would be wearing one."
Mr Dunn's mother, Charlotte Charles, did not attend the meeting.
Mr Dunn, 19, died in August after his motorbike was in collision with a car driven by Mrs Sacoolas outside RAF Croughton, Northamptonshire, where her husband worked as an intelligence officer.
Mrs Sacoolas left for the US under diplomatic immunity, but on Friday was charged with causing death by dangerous driving, following a campaign by Mr Dunn's family.
Mrs Leadsom said there was a "clear process" of extradition.
She added: "There's a clear extradition treaty and it is absolutely vital that we get justice for Harry."
Mr Dunn's mother had said the family was "relieved" the 42-year-old suspect had finally been charged.
But US officials said it was not "a helpful development" and Mrs Sacoolas' lawyer said she would not return to the UK "to face a potential jail sentence for what was a terrible but unintentional accident".
After it confirmed Mrs Sacoolas had been charged, the CPS said extradition proceedings had started, noting that the "Home Office is responsible for considering our request and deciding whether to formally issue this through US diplomatic channels".
"Our specialist extradition team will be working closely with the UK Central Authority at the Home Office to do this," it added.
Can Anne Sacoolas be extradited?
The extradition request is sent via the British Embassy to the US State Department.
A lawyer will then decide whether it falls under the dual-criminality treaty, where the alleged offence is a crime in both countries and carries a prison sentence of at least a year.
The maximum sentence for causing death by dangerous driving is 14 years' imprisonment, although this is usually reserved for the most serious cases.
The US may reject the request for extradition, arguing that Mrs Sacoolas is still entitled to diplomatic immunity.
A statement from Amy Jeffress, Mrs Sacoolas's lawyer, said she had "co-operated fully with the investigation and accepted responsibility".
It added: "This was an accident, and a criminal prosecution with a potential penalty of 14 years' imprisonment is simply not a proportionate response.
"We have been in contact with the UK authorities about ways in which Anne could assist with preventing accidents like this from happening in the future, as well as her desire to honour Harry's memory.
"We will continue that dialogue in an effort to move forward from this terrible tragedy."
Related Internet Links
The BBC is not responsible for the content of external sites.