Covid-19: Corby shoppers 'vital' to town centre in virus hotspot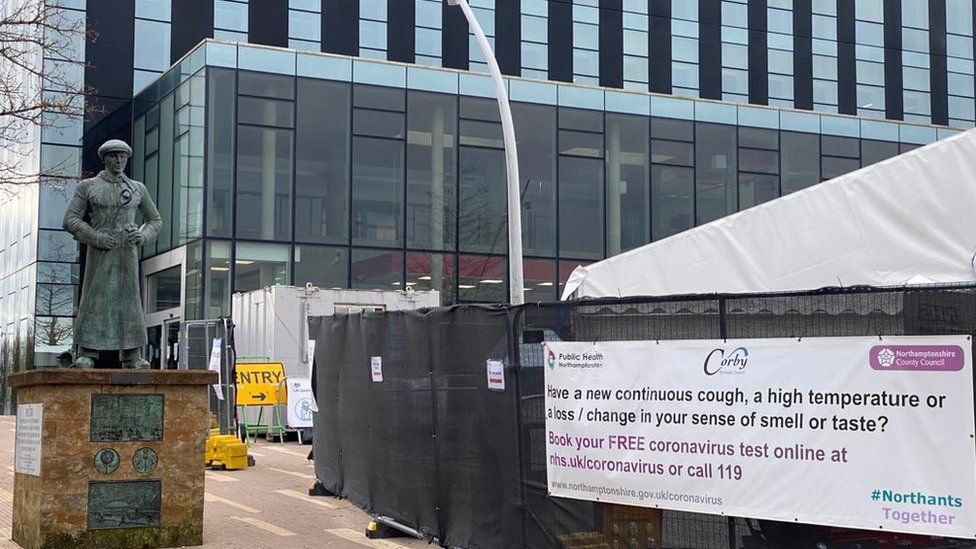 People living in the area with England's highest Covid-19 rate have been urged to support the "fragile" high street as more businesses reopen.
The latest figures show Corby in Northamptonshire, had 142.6 cases per 100,000 people in the week to 3 April - treble the England-wide average but down 34% from the previous week.
Town centre director Dan Pickard said the return of shoppers was "vital".
"We do want people to support the high street," he added.
The opening of pub gardens and non-essential shops in England can go ahead on 12 April, the government confirmed on Monday.
It said "stage two" of lifting lockdown was possible as its four tests for easing Covid restrictions were being met.
Hairdressers, beauty salons and other close-contact services can also open, along with gyms and spas.
Mr Pickard said the town centre would have social distancing measures in place, hand sanitising points, and staff "patrolling" to give guidance to shoppers.
He said Corby's high case rate was "always a concern - it's not a table you want to be at the top of".
"I hope when we do see everything else open up on Monday, that people do follow the guidance," he added.
Mr Pickard said Corby had "fared well" with shop closures but it was "a very fragile market out there".
"It is vital that people follow the guidance but come back to the high street," he said.
Lucy Wightman, Northamptonshire's director of public health, said Corby's fall in case rates was a "reason to be optimistic".
She said there had been a high number of tests in the town but those who tested positive were self-isolating and "doing what they need to, so we are seeing those case rates come down".
Ms Wightman described the easing of some restrictions as "a big step", adding she did not want Corby to "go backwards" as a result of businesses reopening.
Related Internet Links
The BBC is not responsible for the content of external sites.