Adventure play park at Stanwick Lakes destroyed by fire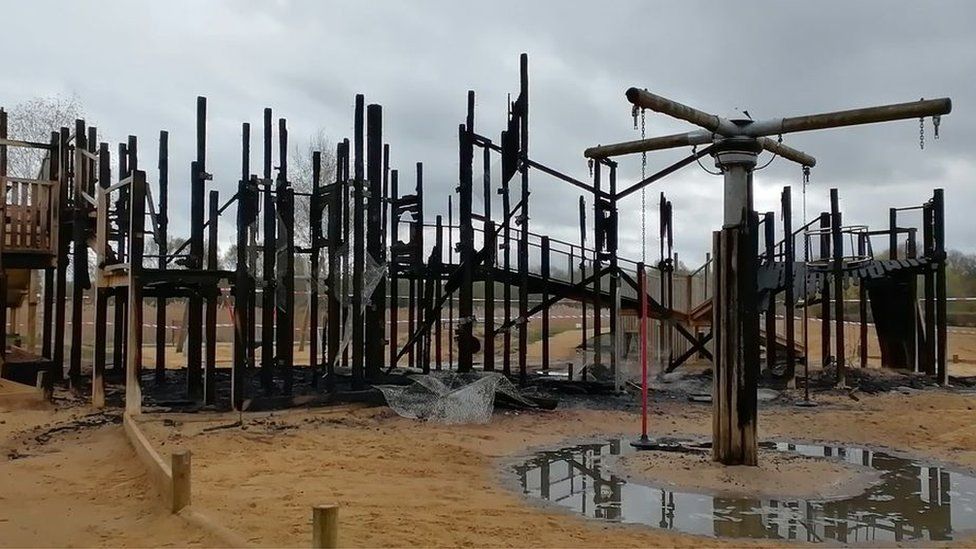 A play area at a major countryside attraction has been destroyed by fire.
The majority of the all-wood play park equipment at Stanwick Lakes in Northamptonshire was destroyed in an "arson attack," the company said.
The 750-acre nature reserve and park is managed by environmental charity Rockingham Forest Trust, in partnership with East Northamptonshire Council.
Northamptonshire Police said it was working with the fire service to establish the cause of the blaze.
The fire reportedly began after 01:00 BST on Saturday.
Katrina Gani, from Harrold in Bedfordshire, took her two sons to the playground on Thursday and said the fire was "horrendous".
"We had so much fun. The children never tire of coming here as the adventure playground is so big and there so much to see and do. It is a beautiful place to visit."
Laura Miller, of Milton Keynes Kids, said the play area at Stanwick Lakes was "the best" and attracted families far beyond Northamptonshire.
"My children have wonderful memories of playing there as I'm sure do thousands of others. I have no doubt that many people will want to help in whatever way they can to get it rebuilt as soon as possible," Ms Miller said.
A crowdfunding page set up to raise money to replace the equipment has already surpassed its target of £2,500.