Northampton firm which supplied a robe to Prince George reopens after fire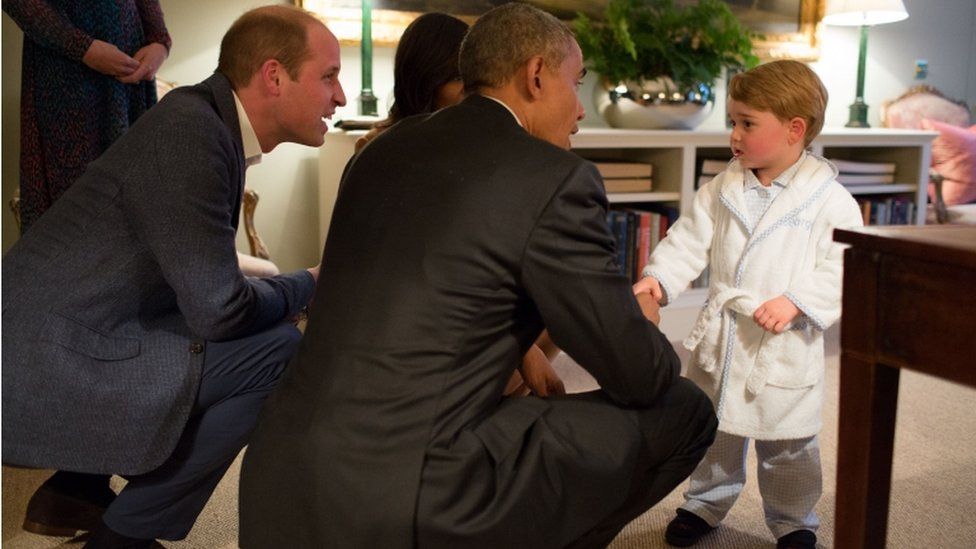 A baby gift firm given a boost when Prince George was pictured wearing one of its robes while meeting Barack Obama has reopened after being burned down.
Fire swept through My 1st Years on Brackmills Industrial Estate, Northampton, in May and cost £15m in damage and lost revenue.
The firm said its relocation to a new site meant it had been able to keep all 120 staff employed.
Its co-founders said the blaze had been "heart-breaking for us and our teams".
The firm, which produces personalised items, had its 100,000 sq ft (9,290 sq m) warehouse, head office and photography studio destroyed in a suspected arson attack.
Life-long friends Daniel Price and Jonny Sitton spent 10 years building up the business before the fire hit.
Ahead of Wednesday's reopening, the pair said: "We never thought we would be in this position, but the fire has allowed us time to relook at how we want to progress as a business.
"[It] made us realise the importance of the right insurance for every single company.
"Our insurance allowed us to keep our workforce employed and to get a new factory in only a few months.
"If we hadn't had that we would be in a very different position now."
The company's new factory is on the outskirts of Northampton and close to the M1.
Mr Price and Mr Sitton said they were overwhelmed by the goodwill messages in the wake of the blaze, including one from I'm A Celebrity Get Me Out Of Here! winner Giovanna Fletcher, who posted a video message on social media.
A police inquiry was launched but no arrests have yet been made.
Related Internet Links
The BBC is not responsible for the content of external sites.