West Northants: Rough sleeper numbers 'massively reduced'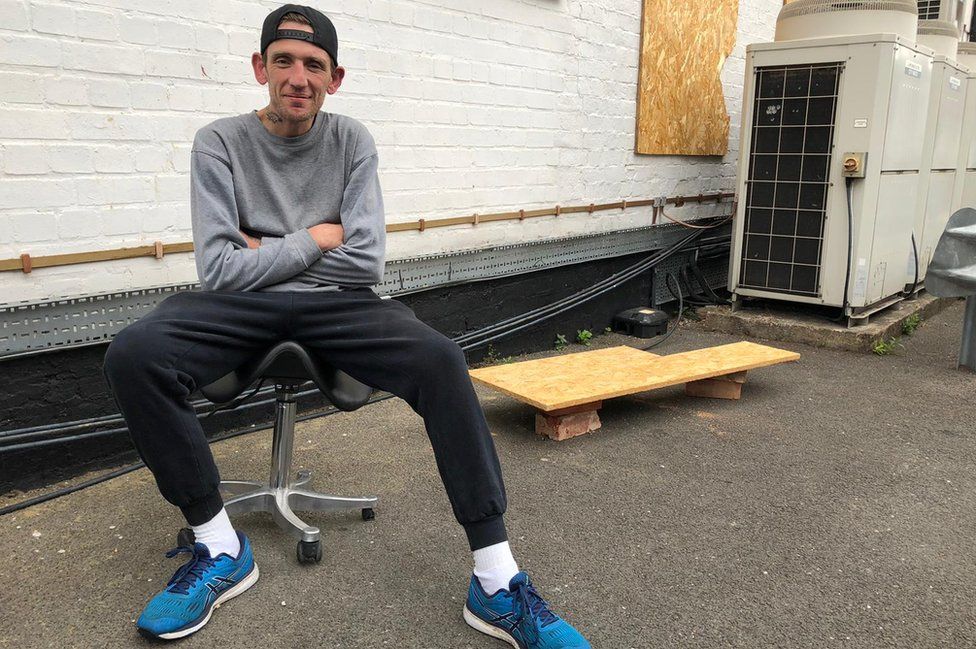 Emergency measures introduced in the pandemic have "massively reduced" the number of rough sleepers in a council district, according to charity workers.
West Northamptonshire Council's annual rough sleeper count recorded 15 people as sleeping on its streets.
The count took place in November, but figures have only just been revealed.
Stan Robertson, from rough sleeper charity Project 16:15, said Covid forced the council to engage with the homeless.
It is the first time a count has taken place across the West Northamptonshire Council area since local government reorganisation in the area that includes the former council districts of Northampton, Daventry and South Northamptonshire.
The new authority formed in May after Northamptonshire County Council, and borough and district councils across the county, were scrapped.
In 2020, nine rough sleepers were counted in Northampton alone, while that figure was 27 in 2019.
Following the outbreak of the coronavirus pandemic last year, people who were homeless or sleeping rough across the country were moved into hotels as part of the government's Everyone In project.
Across Northamptonshire, about 200 people were offered emergency accommodation.
Amarjit Singh Atwal, who runs the Sikh Langar or kitchen in Northampton town centre, said the pandemic measures had "massively reduced the numbers out there".
Mr Robertson said that paradoxically Covid had "saved the lives of rough sleepers".
"We haven't had a death on the streets for a while," the charity worker said.
"It's just a shame it took being forced by a pandemic for agencies to engage with rough sleepers."
The rough sleeper count had previously drawn criticism from charities for being lower than the figure they had expected.
In previous years numbers as low as five rough sleepers have been returned in Northampton, with street level operators arguing it should have been as high as 30 or 40.
This year a new method of counting was tested which involved the council asking organisations to provide their own data, as well as taking results from the on-the-night count.
As a result it took a month for the results, normally published the next day, to be revealed.
Mr Atwal and Mr Robertson said the results were the most accurate snapshot they had seen.
Reverend Sue Faulkner, chairman of Northampton's Single Homelessness Forum, said it was "hopeful" that work done during the pandemic had helped the vast majority move into accommodation and "sustain that progress".
"There are ongoing efforts to provide the right support for those with complex needs," she added.
"Everyone across our town has a part to play; I would encourage anyone who has concerns that someone may be sleeping rough to contact the outreach team.
"The sooner the team know, the sooner they can engage with that person and identify the right pathway off the streets for them."
Related Internet Links
The BBC is not responsible for the content of external sites.