South Northants: Omicron hotspot has highest case rate in England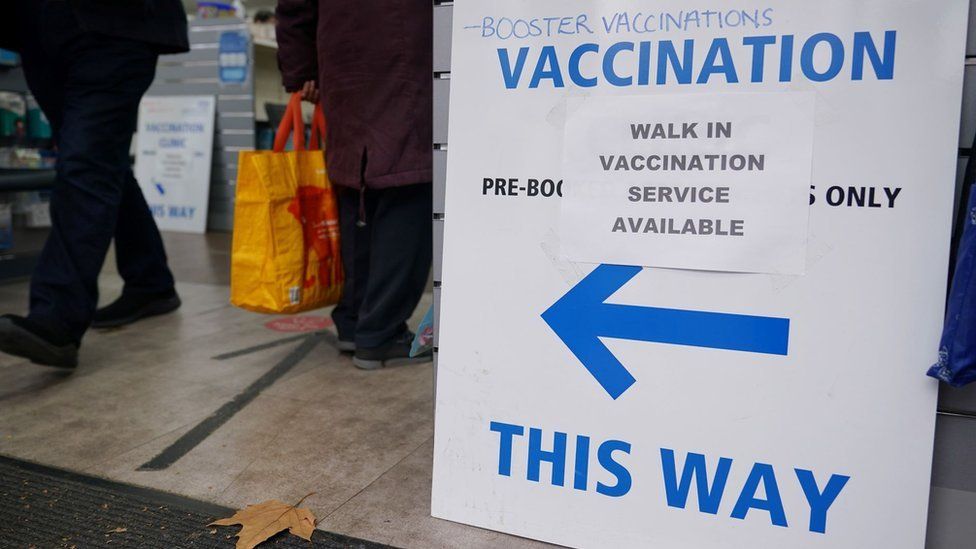 A hotspot for the Omicron variant also has the highest rate of Covid-19 infections in England, data shows.
In the week to 9 December, South Northamptonshire had 891 cases per 100,000 people, a 9% week-on-week rise.
According to figures from the Wellcome Sanger Institute, the area also has the highest rate of the Omicron variant in the country.
Lucy Wightman, the county's public health director, says the variant "has spread within the community".
On Friday, West Northamptonshire Council said there were 49 confirmed cases of the Omicron variant and 68 "highly probable" cases in the area controlled by the authority.
It contains the districts of South Northamptonshire and neighbouring Daventry, which recorded the 26th highest Covid-19 rate in England with 713 cases per 100,000 people, a 31% week-on-week rise.
Ms Wightman said: "Targeted testing has taken place to ensure close contacts have been identified.
"The aim was to understand whether any spread of the new variant may have occurred within the local community and limit the opportunity for any further infection."
She said cases of the variant "have only been detected in a reasonably young age range".
In data up to 4 December, South Northamptonshire reported 26 Omicron cases a week - the highest in England - and more than double the next highest, Lewisham in London.
But Jeffrey Barrett, chief scientific officer at the Cambridge-based institute, warned that the way the data is collected meant the figures were "laughably behind the curve with this variant".
Health Secretary Sajid Javid told MPs that Omicron now represented 20% of cases in England, with 4,713 confirmed cases of the variant.
West Northamptonshire Council is also setting up a pop-up booster clinic in Brackley in South Northamptonshire on Wednesday.
Anyone aged 18 years or over who received a second dose on or before 15 September will be able to get a booster at the town's Methodist Church.
The clinic will also be open to over-16s who are yet to get their first dose, and those who are eligible for a second dose of the Pfizer vaccine.
Related Internet Links
The BBC is not responsible for the content of external sites.