Nottinghamshire Police tops 'crime decline' table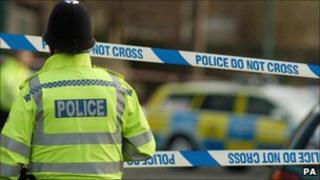 Nottinghamshire Police has recorded the biggest drop in crime in England and Wales, according to a new report.
The 15% reduction in the past year compares to an 8% decline nationally.
Assistant Chief Constable Paul Broadbent called the British Crime Survey (BCS) statistics "a testament to the hard work of officers and staff".
Campaign group the Criminal Justice Alliance (CJA) acknowledged that crime had been falling in recent years but said many offences were not reported.
Despite the year-on-year reduction, Nottinghamshire Police recorded 92 crimes per 1,000 people in the last 12 months - the third highest in England and Wales after the Metropolitian Police and Greater Manchester.
Among these, the most significant were theft, criminal damage, burglary and violence.
However, according to the BCS statistics, each of these categories saw a drop of at least 7% compared to last year.
Mr Broadbent said: "Nottinghamshire has traditionally experienced a high number of crimes, but we are now beginning to close the gap compared to other forces.
'Relatively accurate'
"We have seen sustainable improvements over the last few years and this continued reduction gives us a platform to build on.
"We know there is still a lot of work to do, but we have the determination to drive crime down."
As well as recorded crime, the BCS also measures the level of crime in England and Wales by asking people about offences they have experienced in the past year.
Jon Collins, the CJA's campaign director, said that together the two methods gave a good overview of crime trends and were "relatively accurate".
He said it was "a welcome sign that recent progress has been sustained, and that the recession has not yet led to the predicted rise in crime".
"However, it exposes the futility of the current prison-building programme, which will create thousands of unaffordable new prison places at a time when crime continues to fall," he added.
In terms of reduction in crime, Nottinghamshire Police was ranked top alongside the Northumbria force, which also recorded a 15% overall drop.