Appeal over licence suspensions after Mansfield death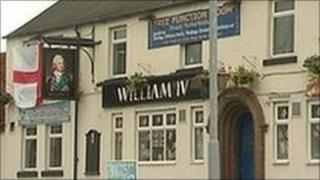 A pub and an off-licence which had their licences suspended after serving a 15-year-old who killed a man nearby, have appealed against the decision.
The district council suspended licences of the Bold Forester pub and Leeming Lane Stores in Mansfield for six and eight weeks respectively last month.
The William IV pub was given an eight-week suspension but police are calling for its licence to be revoked.
James Sheppard, 54, died after the attack in July 2009.
Bench attack
The council issued the suspensions after the store sold alcohol to the boy earlier in the day of the fatal attack, and the two pubs served the group on the same night.
The authority said the sale of alcohol "did not contribute to the fatal attack as it was not a reasonably foreseeable consequence" but it did have "some impact on the boys' behaviour".
The premises were given three weeks to appeal the orders when they were issued and continue to operate as normal while the appeals are heard.
The two appeals are to go before Mansfield magistrates on 4 August.
Mr Sheppard was attacked on a bench outside the town's community hospital.
A Nottinghamshire boy, now 16-years-old, was detained for three-and-a-half years at Nottingham Crown Court on Thursday after admitting manslaughter.
Two other boys, both aged 16, admitted actual bodily harm and were given one-year supervision orders at a hearing in March.