Shotgun man from Top Valley jailed for five years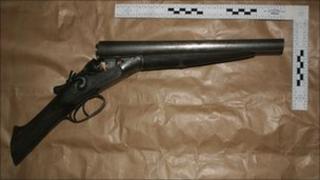 A Nottingham man who had a loaded sawn-off shotgun hidden in his wardrobe has been jailed for five years.
The weapon was found at Justin Jack's home in Hogan Gardens, Top Valley, during a police raid on 28 May.
Nottingham Crown Court heard the 30-year-old admit being in possession of a prohibited weapon.
Police said the raid was part of Operation Vanguard - a crackdown on drug and gun crime - and should serve as a warning to all criminals.
The court was told Jack had shotgun pellets and gunpowder in his jeans' pockets when arrested.
'Serious threat'
Officers found the double-barrelled shotgun, which was loaded with two cartridges, hidden between some clothes.
Also in the wardrobe was a bag containing 24 shotgun cartridges.
Det Sgt Mike Allen said: "Clearly people who carry firearms pose a serious threat to our community and today's lengthy sentence, should serve as a warning to others that the police, nor the courts will tolerate gun crime.
"This case also shows that anyone who claims to possess an illegal gun to protect themselves, will face exactly the same punishment as any other firearms offender."