Protest over axed Nottingham school schemes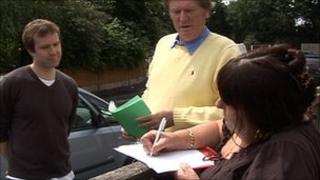 Campaigners fighting to reinstate plans to renovate two Nottingham schools have held a protest.
Planned improvements to Trinity and Top Valley schools were axed in national cuts, despite guarantees from the previous government.
Organisers gathering a petition said losing the projects would damage the local economy and pupils' education.
Education Secretary Michael Gove said the schools programme was inefficient and enormously costly.
Mr Gove announced the scrapping of the Building Schools for the Future programme, cancelling more than 700 projects, at the beginning of July.
'Economically unfair'
But activists in Top Valley said it was a shock after they had been assured the money was in place in February.
Local campaigner Nick McDonald said: "This is not going to be bad just for children, it is going to be bad for the local economy.
"These schools will not build themselves, they are projects that would have generated business for local companies.
"So cancelling is economically unfair and also unfair to the teachers and parents who expected the school to be rebuilt."
'Snatched away'
Local MPs Lilian Greenwood, Vernon Coaker and Graham Allen have all backed the campaign.
Mr Allen said Top Valley and Trinity had been led to believe the funding was secure.
"It was next in line and it has been snatched away from parents and teachers, and it is not good enough.
"I think the community I have seen today indicates that people are very angry and we want the project back on," he said.