Ruined Sherwood palace reopens to public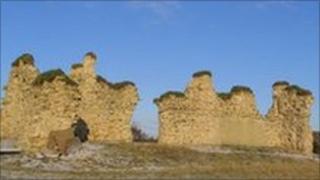 A Nottinghamshire building which hosted medieval kings is being reopened after a major restoration project.
King John's Palace at Kings Clipstone dates from the 12th Century but was put on an at risk register when its walls became unstable.
A £100,000 scheme has since secured the structure, which was used as a hunting lodge for Sherwood Forest.
A pageant is being held to mark the reopening and organisers hope it will become an annual celebration.
Richard the Lionheart met King William of Scotland at the site in 1194 and King John used it as a base for meeting barons.
Historic landscape
Originally a large complex of buildings, just three main walls survive.
Specialist craftsmen have tied together the falling masonry which had been affected by weather erosion.
Event organiser, Steve Parkhouse, explained the palace was key to understanding the local area.
"It is an understanding of the palace and the sites associated with it that makes sense of Sherwood Forest," he said.
"Sherwood Forest is now often seen of that bit near Edwinstowe and a tree and people have lost sight of all the other sites it involved."