Graeme Swann charged with drink driving in Nottingham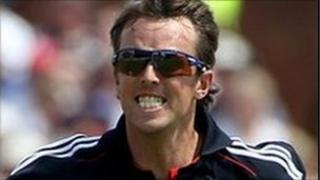 England and Nottinghamshire cricketer Graeme Swann has been charged with drink driving.
The 31-year-old was stopped in the West Bridgford area of Nottingham on 2 April and he was charged last month, police have confirmed.
He is expected to appear before magistrates in Nottingham on 16 August - two days before the third Test against Pakistan at The Oval.
Swann was named Cricketer of the Year by the England and Wales Cricket Board.
A police spokeswoman said: "Graeme Swann of West Bridgford was charged on 8 June 2010 with driving a motor vehicle when alcohol level was above the limit."
Swann established himself in the England Test side in 2007 and has become the first choice spin bowler.
He was a key part of the Ashes winning side of 2009, taking the wicket which clinched the series.