Family want inquiry into care of grandfather killer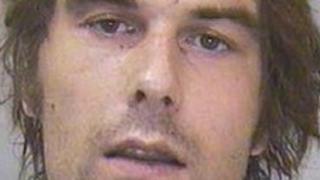 The family of a mentally ill man who stabbed his grandfather to death have called for a new inquiry into his care.
William Barnard, 30, stabbed his grandfather John McGrath to death in Nottingham in July 2009 after he was allowed to stop taking his medication.
He also attacked his grandmother Mable McGrath, who was seriously hurt.
Nottinghamshire Healthcare NHS trust carried out an internal inquiry into Barnard's care, but his family now want an independent inquiry.
His uncle Peter McGrath said: "The better he is becoming he realises what's happened and he's mortified that he has killed his grandfather.
"There are many, many other occurrences very similar to what happened to my father and we just want some action taken to prevent this happening in the future."
The Barnard family's solicitor Paul Bacon said: "The family would very much like to have a public inquiry but realistically that's not going to happen in the present financial climate.
"They're [government] not going to spend a lot of money on a big inquiry into this matter.
"We're hoping we'll get the health minister to order an inquiry by the strategic health authority - we want to have someone from outside measure the Nottinghamshire health authority's work with Mr Barnard."
Broxtowe MP Anna Soubry is expected to raise the case in Parliament on Thursday.
She said: "The killing of John McGrath was a real tragedy for this family and there are lots of lessons we can learn to make sure he didn't die in vain."
'Deeply sorry'
In June, during sentencing of Barnard, Judge Michael Stokes QC was highly critical of Nottinghamshire's mental health services.
He said "there had been numerous opportunities to send [William Barnard] to hospital" and it was a "matter of grave concern that these opportunities were missed repeatedly".
Peter Miller, medical director of the trust, said after the hearing: "We have identified in a very rigorous internal inquiry that there were numerous opportunities earlier on in his care to see Mr Barnard and potentially detain him and for those failings the trust is truly and deeply sorry."
A report commissioned by the trust into the case said there was "a disregard as to the significance of risk factors relating to Patient 09's [William Barnard's] deteriorating condition" and that his care "fell below acceptable standards".
Barnard, who inflicted 56 wounds on Mr McGrath, was committed to Rampton high security hospital indefinitely in June.
He admitted manslaughter on the grounds of diminished responsibility and pleaded guilty to a charge of wounding Mrs McGrath with intent.