Mentally-ill Mansfield man detained for killing mother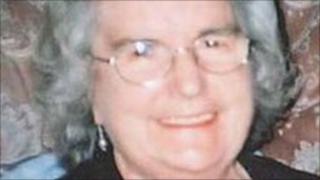 A mentally-ill man who killed his 83-year-old mother at her Nottinghamshire home has been given a hospital order.
Margaret Clapperton was found dead in Linton Close, Mansfield, on 28 March. A post-mortem established she had suffered head injuries.
Anthony Clapperton, of the same address, admitted manslaughter on the grounds of diminished responsibility.
The 58-year-old was detained under Section 37 of the Mental Health Act at Nottingham Crown Court.
The pensioner's body was discovered after her son walked into Mansfield police station and gave himself up.
Her family said Clapperton had cared for his mother since she fell ill many years ago.
'Sense of closure'
In a joint statement, the victim's sister Cecily Hilliard and sister-in-law Jennie Shacklock said: "We don't believe Tony was in his right mind when he killed Margaret, he would never have hurt her intentionally.
"We know that he loved her dearly and she loved him. While we will never be able to forgive Tony, we know he would never have harmed his beloved mum if he had been sound in his mind.
"We will probably never know what caused him to do what he did. Margaret did not deserve that, and we only hope she did not suffer.
"This has been a very difficult and sad time for the family and we are still coming to terms with what happened. Tony is undoubtedly punishing himself and must be suffering so much guilt. He needs care, not punishment."
Det Chief Insp Brendan O'Shea, of Nottinghamshire Police, said: "This has been an extremely difficult and sad time for Mrs Clapperton's family, and I hope the result today means Anthony Clapperton will get the treatment he desperately needs and that it brings a sense of closure to what happened."