Parents of Mansfield neglect death girl lose appeals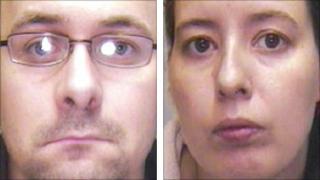 The mother and stepfather of an eight-year-old girl found hanged in her "squalid" Mansfield bedroom have failed in appeals against their prison terms.
Simon Moody, 32, and Susan Moody, 24, were each jailed for 12 months in April after admitting child neglect charges.
Their trial heard how Charlotte Avenall was locked in her faeces-smeared room for up 12 hours each night.
Appeal Court judges ruled the sentences were appropriate given the "foul and filthy mess" the girl lived in.
Charlotte, who had severe learning difficulties, was found hanged from a cord tied to a window at her home in Moor Street on 12 September last year.
Nottingham Crown Court was told her bedroom had faeces smeared all over the walls and floor, and that she had been forced to use her chest of drawers as a toilet.
Simon and Susan Moody both pleaded guilty to wilfully neglecting, abandoning or exposing Charlotte in a manner likely to cause unnecessary suffering or injury to her health.
'Tragic but preventable'
On Tuesday, they asked the Criminal Appeal Court to cut their jail terms, but Judge Gilbert said that police officers had reported how they had never encountered such filth in a child's bedroom.
When Charlotte died she was dehydrated and her hair was riddled with lice, but the family's tanks of pet spiders and lizards were regularly cleaned out and appeared "well cared for," he added.
Refusing both appeals, the judge said: "Charlotte's death was tragic but preventable. She required constant supervision and care, but these appellants locked her in her room overnight and did not check her.
"She was left in a foul and filthy mess. On the day she died, she had been locked in that stinking room for 14 hours. The rope in the room would have been discovered had they gone in there.
"This was negligence rather than wilful ill-treatment, but we consider that the judge was right to impose the sentences that he did."