Campaign to secure Mansfield bus station funds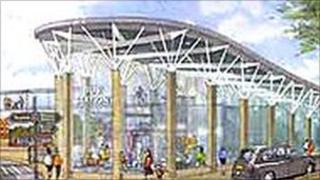 A campaign has begun to secure government funding for a £11.6m bus station in a Nottinghamshire town.
Provisional government approval has already been granted for the new station in Mansfield but final approval is needed before work can begin.
The district and county councils say the new facility will boost the town's economy.
The Department for Transport said a final decision on funding could not be made until October.
'No assurances'
The scheme involves moving the bus station from its current site on Rosemary Street to the Station Road car park, near to the railway station.
The new station would include toilets, shops and electronic timetable information boards.
Mansfield mayor Tony Egginton said: "The whole scheme is critical to the regeneration of Mansfield town centre.
"The designs look superb and by linking to the railway station to create a transport interchange, it will make our town centre much more user-friendly, accessible and attractive to visitors."
A spokesperson for the Department for Transport said: "At least until the conclusion of the spending review in October, the Department can give no assurances on its intention to fund any schemes that were awarded Programme Entry by the previous Government."
Planning permission for the station was granted in June 2009.