East Midlands Trains introduces energy saving mode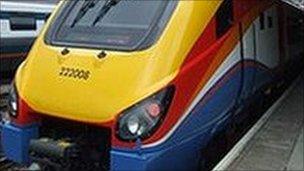 East Midlands Trains has introduced an energy saving mode to some of its fleet to help save on fuel and cut down pollution.
The mode has been installed on 27 of its Meridian trains.
It means if a train stands in a station for more than seven minutes most of the engines will shut down, resulting in reduced noise and emissions.
The company said trains can wait up to an hour at stations such as Nottingham and St Pancras before setting off.
When switched on, the energy saving mode slightly reduces interior lighting, cuts the power from the at-seat sockets and limits heating and air conditioning.
However, passengers will still be able to board the train while it is in energy saving mode and the doors, display screens, WiFi and toilets will all continue to work as normal, the train company said.
Matt Browne, head of environment for East Midlands Trains, said: "As well as the reduction in emissions, this will save up to 54 litres of diesel per train for every hour they are not used, saving a massive 800,000 litres of fuel every year, which is enough to fill 20 articulated road tankers.
"There will also be some further benefits such as improved fleet reliability and cleaner and quieter stations and depots."
Related Internet Links
The BBC is not responsible for the content of external sites.