Nottinghamshire man jailed for drugs and firearms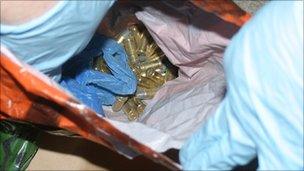 A Nottinghamshire man who claimed he wanted to help keep young people out of trouble has been jailed for four years for drugs and firearms offences.
Damion Munn, 28, of Walnut Gardens, East Leake, was sentenced to 57 months for possession of cocaine and heroin with intent to supply.
Det Con Dale Baldry from Nottinghamshire Police called Munn's actions "hypocritical".
As well as firearms drugs with a value of £82,000 were found at Munn's flat.
Det Con Dale Baldry said: "Damion Munn purported to be a pillar of the community, claiming he wanted to help fund a project to keep young people away from drug addiction.
"It is hypocritical to think on the other hand he was dealing drugs at a higher level with no regard for the consequences.
"While the sentence reflects the severity of the crime, we also need to take into account the people whose lives will now not be ruined now he is in prison and not able to deal heroin and cocaine," he said.
At Nottingham Crown Court, Munn was also given concurrent sentences of two-and-a-half years for possessing cannabis and 18 months for having a silencer and ammunition without a firearms certificate.
Nottinghamshire Police stopped Munn in a car near the Queen's Medical Centre in Nottingham on 17 March for unrelated matters but officers recovered his keys and searched his flat.
They found a silencer that could be fitted to a 9mm pistol or a .38 revolver, 61 live rounds of ammunition and cocaine, heroin and cannabis worth about £82,000.
They also found £2,600 in cash, an electronic money counter, cutting agents used to bulk out heroin and crack cocaine, spoons with traces of drugs on them and three sets of digital scales.