Ice Age remains found during A46 widening work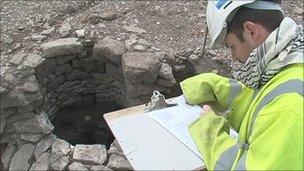 Archaeological remains from the Ice Age have been uncovered by workmen widening the A46 in Nottinghamshire.
Flint tools dating back to 11,000BC were discovered at Farndon during work to turn the road into a dual carriageway.
The stretch from Newark to Widmerpool has already revealed a Roman road and fragments of Roman pottery.
More than 100 archaeologists have worked to ensure important remains have been properly recorded and recovered.
Geoff Bethel, A46 Highways Agency project manager, said: "As the A46 follows the route of the old Roman road, we expected to uncover a number of artefacts from Roman Britain and we were not disappointed; but to uncover such rare flint tools dating back to the end of the Ice Age was very exciting."
The Department for Transport is spending more than £340m improving the A46 between Newark and Widmerpool.
The 17-mile (28km) stretch is designed provide a new, fast link between the A1 and M1.
Related Internet Links
The BBC is not responsible for the content of external sites.