Nottingham garden tribute for those missing in conflict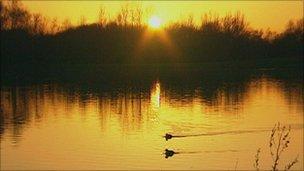 A special remembrance garden to honour people missing in conflict has opened in Nottingham.
Flowers - including the "humanity" rose, bred specifically for the Red Cross - were planted at a special ceremony in the city's Arboretum Park.
The British Red Cross said tens of thousands of families had lost loved ones in conflicts across the world.
The charity said the "garden for the disappeared" would be its first remembrance garden in England.
The launch also involved planting forget-me-not seeds and releasing balloons with messages to loved ones.
Donna Boulton, British Red Cross international tracing and messaging service co-ordinator, Nottingham, said: "We are holding this ceremony in memory of the tens of thousands of people who are estimated to be missing globally as a result of armed conflict or other situations of violence.
"This is an opportunity for the people of Nottingham to show their concern and support for the families of the missing."
The opening of the garden also aims to mark the International Day of the Disappeared, on August 30, which is a United Nations-recognised annual commemoration day for individuals who have gone missing in armed conflicts or other situations of violence whose fate is unresolved.
The Red Cross is currently trying to trace the relatives of more than 1,000 families separated as a result of conflicts in countries including Afghanistan, Eritrea, Sri Lanka, Somalia, Democratic Republic of Congo, and Iraq.
Related Internet Links
The BBC is not responsible for the content of external sites.