Sherwood Energy Village firm in liquidation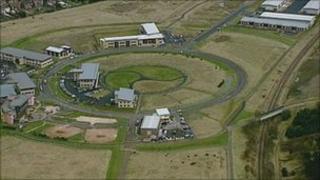 An organisation which helped to regenerate a former Nottinghamshire mining town has gone into liquidation.
The Sherwood Energy Village, an environmentally friendly business park, was created after Ollerton colliery closed in 1994.
Managers said a scheme to develop housing had been hit by the recession and these plots would now be sold off.
But they emphasised the businesses who had leased land would not be affected by the change.
The 91-acre (37-hectare) development was designed to boost the local economy in the most sustainable way possible.
Economic downturn
The site now employs 1,500 people - more than the colliery - with a mix of private companies and public services.
Stan Crawford, Chief Executive of Sherwood Energy Village, said: "We got hit by the housing market downturn.
"We had just ventured into starting to construct some houses and we got planning permission for 196.
"We had started to build the first 11, then the housing market had the downturn followed by the recession.
"And you have seen it not just in Ollerton but all over the country and all over Europe, so we are victims of external circumstances."
'Fantastically diverse'
Graham Lawrence, of credit reference company Riskdisk, which was the first private tenant on the park, said he felt the company had done a good job.
"It is a shame that the business they formed has gone into liquidation, but that does not detract from the fact that Stan actually achieved everything he wanted to achieve.
"There are a fantastically diverse number of business on this village, from Center Parcs to ourselves, there is a care facility, local government is here and the police are coming.
"We think it is fantastic and as far as the legacy is concerned, this place is here to stay."
Mr Crawford received the OBE in 2006 for services to business.