Nottinghamshire's economy 'in transition'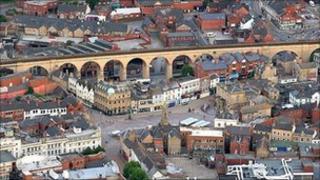 Parts of Nottinghamshire's economy are still "in transition", according to regeneration bosses.
BBC-commissioned research highlights the Mansfield and Ashfield areas as being prone to economic shocks.
Both depend on vulnerable sectors and have a low proportion of high-growth business, the Experian study suggests.
But the county council said the two districts were "doing pretty well" and only lagged behind due to a low starting base of declined industries.
The researchers examined the resilience of England's 324 council areas to economic upheavals such as the public sector cuts due to be announced by the government in autumn.
They took into account factors such as house prices, crime levels and educational achievement.
Mansfield and Ashfield ranked 318th and 319th respectively in terms of overall business resilience.
Geoff George, economic regeneration manager at the county council, said: "Mansfield and Ashfield have a good record of creating small businesses, but their economies are still in transition from the old into the new.
"I think it's based on historical vulnerability. We're emerging from an economy that was dependent on industries like coal and textiles that went into decline. They've been moving away from an old way of employment."
He added: "It's about changing ambitions and if you look at business start ups, the area is doing pretty well from a low starting base.
"To encourage this we try to improve the infrastructure, the general attractiveness of the area, and we're working with the respective district councils to achieve this."
Mansfield District Council said its own research had highlighted similar issues, but stressed that considerable progress had been made in the past decade with European and government funding helping companies to fill up the region's business parks.
With the grants drying up and a decline in large business investment, the authority is now focusing on encouraging smaller, indigenous firms to develop.
Ashfield District Council said local initiatives to tackle "deep weaknesses" in entrepreneurship and aspiration had made real progress in building economic prosperity and marketing the area's advantages for inward investment
BBC Radio Nottingham will have a debate on the results of the research at 0900 BST on 10 September.