Cannabis factory in Nottinghamshire was 'professional'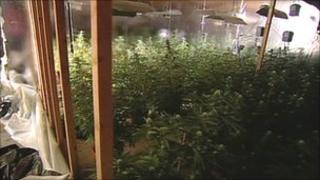 Police who raided a cannabis factory in Nottinghamshire on Thursday say the operation they uncovered was very professional.
Officers began the raid at about 1500 BST at a unit on Hazel Court Industrial Estate in Blidworth.
About 100 plants were discovered at the unit but the street value of the drugs is not yet known.
No arrests have yet been made and anyone with information about the site is asked to contact police.
Insp Andy Gan, from Nottinghamshire Police, said: "What we actually found was almost a building within a building, quite a substantial timber frame with plasterboard walls.
"We've found about 100 plants so far and they were making plans to grow more in the empty spaces."