Views sought on Nottinghamshire County Council cutbacks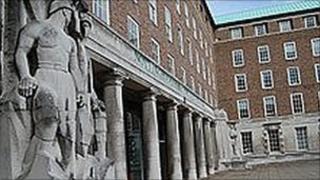 Members of the public have been invited to suggest where they think the axe should fall when huge cutbacks are made by Nottinghamshire County Council.
Thousands of jobs could go as the authority tries to save £150m over three years. A total of £69m needs to be saved next year alone.
The council has already announced it aims to save £17m through reduced administration and management levels.
A series of roadshows has started where taxpayers are asked for their opinions.
Website opinions
The launch of the council's Big Budget Conversation aims to get people to comment on budget recommendations.
The authority said it was facing an "unprecedented financial challenge" due to reductions in government funding.
The council has also announced restructuring plans to reduce the number of departments and centralise all support and strategic services.
As well as the roadshows the council has a dedicated section on its website for people to make their views known.