Campaign to change Nottingham flooding scheme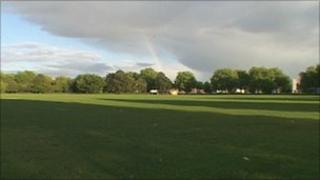 Campaigners in Nottingham have criticised plans to build flood defences on recreational land.
The £51m Nottingham Left Bank Flood Alleviation Scheme will protect up to 16,000 homes, the Environment Agency (EA) has said.
But residents near the city's Victoria Embankment say the wall, up to 1.8 metres (6ft), will cut through "vital and valuable" land.
An EA spokesman said the work was necessary to protect people's homes.
"We have had quite a wide and varied set of consultations through the whole length of the scheme and in particular as you come into Nottingham," said Innes Thomson from the Environment Agency.
"We have put on roadshows and had varied responses from people," he added.
'Wasted land'
But campaigner and Meadows resident Jonathan Hughes said the consultation had not been satisfactory.
"They [Environment Agency] were supposed to be at the Riverside Festival for two days but they were only there for one," he said.
"They were supposed to be at the library for two weeks but were late. This scheme will cut across extremely valuable and vital recreational land, land which has been there since 1906.
"It is a tremendous waste of land and space and I can't imagine why they are doing it."
A public meeting has been organised for Tuesday 21 September at 1800 BST in the Queen's Walk Community Centre.
The project will cover 27km (17 miles) from Sawley in Derbyshire to Colwick near Nottingham.