Canoeist finds missing woman's body in Nottingham river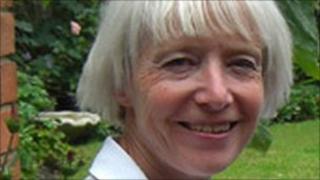 A canoeist has found the body of a missing woman on the banks of the River Trent in Nottingham, 10 days after she disappeared.
Police said the body of Angela Cooke, 57, had been found just before noon on Sunday in the Wilford area of the city.
Mrs Cooke, from Bulwell, was reported missing on 24 September after she had failed to return from a shopping trip.
A Nottinghamshire Police spokeswoman said the death was not being treated as suspicious.
Appealing for help in finding her on Friday, Mrs Cooke's husband Robert said she had been suffering from a health condition which affected her balance and immune system and had led her to suffer from depression.
Mrs Cooke had been dropped off by her husband in York Street, behind the Victoria Centre shopping complex.
CCTV footage showed her walking through the shopping centre shortly before 1430 BST on 24 September but there had been no further sightings of her.
The police spokeswoman said Mr Cooke had formally identified his wife's body on Sunday.
She added: "Mr Cooke and his family are understandably extremely distressed."