Toxic algae suspected in mysterious dog deaths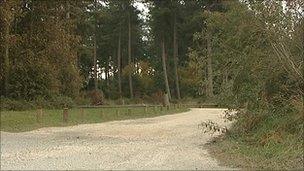 Tests have shown that blue-green algae could be to blame for the mysterious deaths of dogs in Nottinghamshire.
Ten dogs have died in the past two years after being walked in places like Vicar Water and Clumber Park.
Scientists who tested water samples taken from the area first found some levels of the toxic algae.
Nottinghamshire vet Janice Dixon said several dogs she examined had signs of blue-green algae poisoning.
Dr Phil Harding, of the Environment Agency, said the original tests showed the algae levels were marginally higher than the threshold where scum formation might be expected.
Subsequent tests showed no blue green algae in the samples, but the agency explained that "at this time of year algae populations will start to decline naturally".
"You'd expect them usually in ponds or larger water bodies. The algae is a perfectly natural part of the eco-system. It's a slow-growing organism that gradually builds up through the summer."
Ms Dixon said the positive tests had come from Vicar Water near Clipstone and Deerdale Lane in Sherwood Forest near Bilsthorpe.
A level of 20 parts per billion of blue-green algae is enough to kill a dog, which can be affected if it swims in the water, drinks it or licks the water off its fur.
Ms Dixon said: "Had I sampled them (the areas where the dogs had died) earlier the results might have been more conclusive as it rained all day the previous day and the samples would have been massively diluted."
She said one dog had become very ill this month after walking in Deerdale Lane and another dog had died after swimming in Vicar Water.
"I believe it caused the death of one dog - it might not have been the cause for all those deaths but I think it is the cause for some of them."
"What I plan to do next year is take samples before the weather changes, when we have the right temperature and the right amount of light and then we'll get a more representative portion."
Related Internet Links
The BBC is not responsible for the content of external sites.