Graeme Swann 'drinking for several hours' before arrest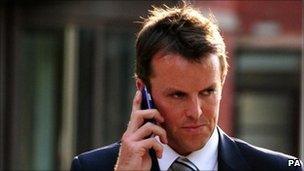 England cricketer Graeme Swann had been drinking for almost five hours before being arrested for drink-driving, a court has heard.
Mr Swann was stopped by police in the West Bridgford suburb of Nottingham on 2 April.
Nurse Lisa Hodgkinson, who took a blood sample from the 31-year-old, told the trial that Mr Swann said he had had five glasses of wine.
Mr Swann earlier denied drink-driving at Nottingham Magistrates' Court.
Ms Hodgkinson told the court: "Mr Swann stated he drank approximately five glasses of white wine which were home measures.
"Mr Swann stated he started drinking at approximately eight in the evening and finished drinking about half twelve or one in the morning."
At an earlier hearing, the court heard Mr Swann told police he had returned from celebrating his birthday to find his cat trapped under floorboards at his home.
The court heard Mr Swann then drove to Asda in Loughborough Road to buy screwdrivers to undo the floorboard.
The police officers decided to pull him over because he was driving a high-performance car in an area where there had been a spate of burglaries.
A blood test later recorded 83mg of alcohol per 100ml of blood - the limit is 80mg.
The trial began in August but was adjourned because of Swann's cricketing commitments.
The case will resume again on 7 December with Swann being excused from attending on that date because he will be with the England team contesting the Ashes series in Australia.
Related Internet Links
The BBC is not responsible for the content of external sites.