Coroners calls stabbed burglar's death a 'tragedy'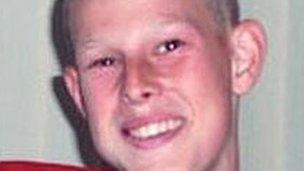 A Nottinghamshire coroner has described the death of a teenager who was stabbed in a fight in the house he was burgling, as a tragedy for his parents.
Tyler Juett, 17, was stabbed in the shoulder during a struggle with Omar Roberts, 24, after breaking into a home in Basford.
Coroner Nigel Chapman said there were "no winners or losers" following the incident in March 2009.
Mr Roberts was originally charged with murder but that was later dropped.
Mr Juett was stabbed in the right shoulder during a struggle with Mr Roberts who arrived at his mother's home to find the burglar inside.
Mr Juetts's parents were at Nottingham Coroner's Court to hear a Home Office pathologist say their son had died from a single stab wound. Dr Chapman recorded a narrative verdict.
Speaking to Mr Juett's parents, he said: "Whatever he has done, he was still your son and he is still a huge loss to you."
In April, the Crown Prosection Service said it had decided not to charge Mr Roberts because new information meant there was no "realistic prospect of conviction".