Nottinghamshire County Council budget cuts unveiled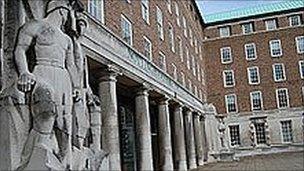 Nottinghamshire County County has revealed where part of the axe will fall as it aims to save £150m over the next three years.
Libraries, bus services and recycling centres will be hit as part of early proposals to cut £28.5m from the authority's budget.
Services including trading standards, country parks and highways maintenance will also be affected.
A total of £69m needs to be saved next year alone, the council said.
It has already announced it aims to save £17m through reduced administration and management levels.
The authority said it was facing an "unprecedented financial challenge" due to reductions in government funding.
Latest measures include reducing library opening times, cutting access times to 12 household waste recycling centres and reviewing 290 subsidised bus services.
The council also aims to save £2.3m on road maintenance and repairs.
Councillor Kay Cutts, leader of Conservative-led Nottinghamshire County Council, said: "We have made no secret of the fact that difficult decisions will have to be made.
"A lot of the savings will be created by reducing management layers and back office support, which will help protect frontline services as much as possible.
"However, we have to prioritise the needs of children at risk and vulnerable people, which means that less essential services will have to be reduced, provided in a different way or stopped altogether."
The budget proposals will be discussed on 21 October.
Related Internet Links
The BBC is not responsible for the content of external sites.