Anti-cuts graffiti painted on Nottingham County Hall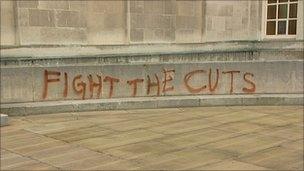 Vandals have painted slogans on Nottinghamshire County Council's County Hall in protest at proposed cuts.
"Fight the cuts" and obscene graffiti were painted in red along the building some time on Wednesday night.
Six windows were also smashed by the vandals. CCTV footage has shown two young men carrying out the damage.
The Conservative-led county council announced it needed to save £150m, with libraries and community facilities facing closure.
Kay Cutts, Leader of Nottinghamshire County Council, said she was disappointed with the vandals' behaviour.
"This sort of mindless vandalism doesn't help our cause," said Ms Cutts. "We now have to spend public money on repairing the building.
"We still have a diminishing cake, so that is a sum out of the pot that we needn't have spent if people hadn't have behaved like this.
"We want to hear everyone's views on how they think we should spend their money but this is not the way to do it."
The authority plans to save money over the next three years to help meet the expected funding cuts, as well as extra commitments to the care of children and the elderly.
The government is due to reveal the findings of its Spending Review next Wednesday.
Anyone with information about the vandalism is asked to contact police.
Related Internet Links
The BBC is not responsible for the content of external sites.