Salman Rushdie among backers of DH Lawrence heritage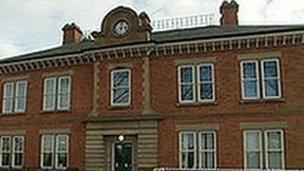 Notable literary figures were among several signatories to an open letter expressing concern that part of the DH Lawrence centre could close.
Salman Rushdie, Martin Amis and Geoff Dyer are "appalled" that "part of British culture" is under threat.
Broxtowe Borough Council has suggested Durban House, part of DH Lawrence Heritage in the former mining town of Eastwood, Nottinghamshire, could close.
But council leader David Watts said absolutely no decisions had been made.
DH Lawrence Heritage is split into two parts. Durban House Heritage Centre houses a temporary exhibition space, as well as permanent displays on mining and the author of Lady Chatterley's Lover and Sons And Lovers.
The DH Lawrence Birthplace Museum is where Lawrence was born and has been restored to look as it did in 1885. It also houses exhibitions and information about his life.
"We are therefore appalled by Broxtowe council's proposal to close the DH Lawrence heritage centre in his home town of Eastwood.
"Cultural funding can all too easily be concentrated only in the centre of our cities. We call on Broxtowe council to guarantee the continued survival of this national asset."
Further signatories included Michael Parkinson, Billy Ivory, Glenda Jackson, Lord Puttnam, Ken Russell, shadow arts minister Gloria De Piero and the Eastwood DH Lawrence Society.
Mr Watts said there were a number of options on the table. "We have to balance the books. It costs us net £60,000 a year to run this building.
"We have just been told by the county council that they are cutting the grants that pay for wardens for sheltered accommodation and things like that.
"Frankly, if it's a case of saying to people we'll keep those warden services or we'll keep a building, I'm going to go for the people every time."
He added that if Durban House were to close, exhibitions would be moved to the Birthplace Museum.
Related Internet Links
The BBC is not responsible for the content of external sites.