Jailed crime boss Colin Gunn 'still has influence'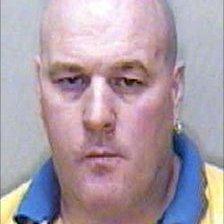 Police in Nottingham have admitted a convicted gangland killer still has an influence over his patch, despite stringent efforts to reduce crime.
Colin Gunn, 40, was jailed for 35 years in 2006, for his part in the revenge killing of John and Joan Stirland at their Lincolnshire seaside home.
After the murder, Nottinghamshire Police began Operation Kingdom on the Bestwood Estate, to reduce crime.
Since 2005, crime on the estate has been reduced by 46%, police said.
When Operation Kingdom began, figures showed 1,245 crimes were committed in Bestwood from 2005 to 2006.
The latest figures for 2009 to 2010 show 676 crimes were committed, police said.
Det Ch Supt Ian Waterfield said he had not become complacent about the situation in Bestwood.
"I am aware that there are still organised crime activities on the Bestwood Estate, as there are on many other estates and parts of Nottinghamshire.
"But Colin Gunn is still in contact with people he's grown up with, who he's offended with and who are loyal to him."
But Det Ch Supt Waterfield assured residents everything was being done to tackle crime in the area.
"We are constantly looking for opportunities to take action against people who are loyal to him, those who commit crime and anti-social behaviour on the streets of Bestwood.
"We will relentlessly target those people to make life better for the people of Bestwood."
Pat Chambers, a Bestwood resident, said: "Before Operation Kingdom began, people were afraid to go outside and lived their lives behind closed doors.
"We wanted our freedom back and it took a lot of work to get where we are today."
John, 55, and Joan Stirland, 51, were shot at their house in Lincolnshire, in August 2004 in revenge for a murder their son, Michael O'Brien, committed in 2003.
Mr Stirland was shot six times, his wife was shot four times. The prosecution in the trial was unable to establish who pulled the trigger but three men, including Gunn, were found guilty of conspiracy to commit murder.
Michael McNee, 21, of no fixed address, was jailed for at least 25 years and John Russell, 29, of Northcote Way, Nottingham, was jailed for 30 years.
Related Internet Links
The BBC is not responsible for the content of external sites.