Spending Review: Government backs Nottingham tram plans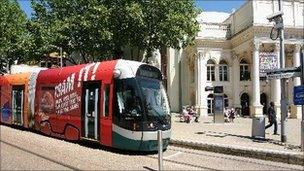 The government has confirmed its commitment to the second phase of Nottingham's tram network.
There had been some uncertainty about the future of the project ahead of today's Spending Review announcement.
But Chancellor George Osborne outlined an intention to proceed with several PFI projects, including two new lines for the city's tram service.
The plans will see the network extended from Clifton via Wilford and from Chilwell via Beeston.
Nottingham City Council leader Jon Collins said: "This is very good news for Nottingham. We have worked hard to argue the case for two more tram lines because the benefits to Nottingham and the surrounding area are so great that it would be foolish not to pursue the proposals.
"I'm pleased that the government has clearly recognised this and the strength of our proposals."
However, the coalition government has stressed that "resources are tight" and expects the project to be delivered affordably.
Mr Collins added: "We've always believed that the scheme offers good value for money. But in these straitened times, we now have the challenge of responding to the government's demands to bring the cost down even further.
"Our focus is on working with the government to identify further savings. We will do all we can to ensure that two new tram lines are operational as close to the timetable that we have already set out."
Tenders for the line extension were received earlier this year and a preferred bidder is due to be selected in December.
Final approval from the government will be sought in summer 2011, when construction work is expected to begin.
It is hoped the new lines will be open for service in late 2014.
Related Internet Links
The BBC is not responsible for the content of external sites.