Binmen crush landslide victim's sofa by mistake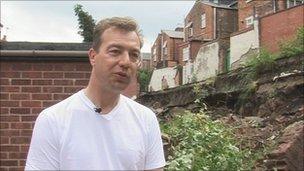 A Nottingham man who lost part of his back garden in a landslide has now had his living room sofa crushed by mistake.
Andrew Pendleton, from Sneinton, put his sofa outside his house while insulation work was being carried out.
But city council binmen crushed the sofa and a carpet in their lorry, believing it was fly-tipped waste.
Mr Pendleton has complained to the city council, which said it was investigating the case.
The city council had advised Mr Pendleton not to use his back garden - which was covered in rubble from the June landslide - and so he moved the furniture to the front of the house.
A builder working on the insulation heard the crushing sound and ran out to see what was happening but it was too late, Mr Pendleton said.
"The builder came out to find the council had taken away the contents and were crushing it in the wagon," he said.
"The sofa was carefully wrapped up in a tarpaulin... to keep it dry. It was put back inside at night so nobody pinched it but I didn't think that would be the council."
In June heavy rain caused a wall to collapse at the back of Mr Pendleton's property and the debris has still not been cleared away.
No-one was injured in the landslide but the gardens of eight houses were damaged.
He said the council had told him to contact its insurance department about a claim.
Nottingham City Council said in a statement: "We acknowledge the reported incident from Mr Pendleton and are investigating."
Related Internet Links
The BBC is not responsible for the content of external sites.