Tram campaigners want third tram phase in Nottingham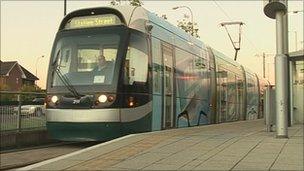 Campaigners in Nottingham are pushing for a third extension to the city's tram system after recent government support for a second line.
They want a seven-mile (11.2 km) stretch, costing up to £100m, to be built to the northwest of the city.
The tram extension to Chilwell and Clifton in the south of Nottingham is set to proceed after the government promised not to cut its backing.
The proposed route to Eastwood uses track bed from previous rail line.
Members of the Kimberley, Eastwood and Nuthall Action Group handed out leaflets at Phoenix Park on Monday.
Tram campaigner Andy Cooper said: "Everyone was thinking with the Spending Review that the tram extension would probably get shelved, but the government has seen sense. It has to improve transport infrastructure."
Mr Cooper said: "It's a huge boost for us that Phase II is now going ahead; this gives us the added confidence of campaigning for an extension out to Kimberley".
Kimberley county councillor Richard Robinson said "I know there's a long road ahead, and getting the funding will be a huge challenge, however the congestion along with A610 corridor has to be addressed.
Tenders for the second phase were received earlier this year and a preferred bidder is due to be selected in December.
Final approval from the government will be sought in summer 2011, when construction work is expected to begin.
It is hoped the new lines will be open for service in late 2014.
Related Internet Links
The BBC is not responsible for the content of external sites.