Road projects in East Midlands 'delayed'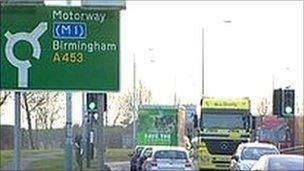 Several major transport projects in the East Midlands have been dropped from the government's priority list.
Transport Minister Philip Hammond has announced work on the A453 widening and A38 Derby junction will not start until at least 2015.
But the government has given the green light to a new bus station in Mansfield.
The bus station project will go ahead after negotiations with the local authority are finalised.
Mr Hammond said: "Whilst we have had to make some tough choices, I am pleased that spending on transport was treated as a priority for the government in the Spending Review.
"Transport is vital to securing the UK's long term prosperity. That is why these schemes are so important and why I will continue to argue for investment which delivers long term benefits for both the travelling public and the economy as a whole."
The Derbyshire and Nottinghamshire Chamber of Commerce said widening the road would benefit the region's economy by more than £320m.
The improvements to the Derby A38 junctions at Kingsway, Markeaton and Abbey Hill will not begin until at least 2015, despite being on the drawing board for 12 years.
Conservative councillor Richard Jackson, of Nottinghamshire County Council, said he would continue to lobby the government to get "a better answer" from them on the A453 project.
"We are still convinced we need it as soon as possible. There is a glimmer of hope there as it has not been cancelled," he said.
"We would have liked the bulldozers to have moved in tomorrow. It is vital for Nottingham and Nottinghamshire."
He added the decision to go ahead with the Mansfield bus station was excellent as the £60m project was a catalyst for regeneration.
Related Internet Links
The BBC is not responsible for the content of external sites.