Petition over Nottinghamshire light switch-off plans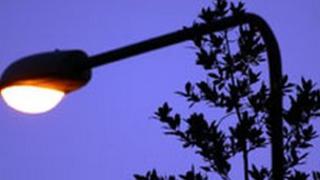 Thousands of people have signed a petition calling for Nottinghamshire County Council to scrap plans to switch off some street lights at night.
Campaigners said the authority's money-saving move, which starts in some areas next month, could lead to increased crime and more road accidents.
The Conservative-run council estimated changes to the 93,000 lights would save about £1.25m.
Crime and accident blackspots will continue to be lit, the council said.
Teena Needham, who lives in Stanton Hill, said she was concerned about a rise in crime.
Ms Needham said: "There are alleyways between the houses. There are three on each street.
"If they turn the lights out, it's going to be a muggers' paradise because there's no other way of lighting those [areas]."
Councillor Richard Jackson, cabinet member for transport and highways, said: "I know from our current Big Budget Conversation that there are many Nottinghamshire residents who will welcome this project and several parish councils have already expressed an interest in having lights in their areas altered.
"Where this work has been carried out by other authorities, collisions and crime have not increased.
"We will continue to light crime and accident black spots and we will monitor the project carefully."