Miss England backs Nottingham fees protest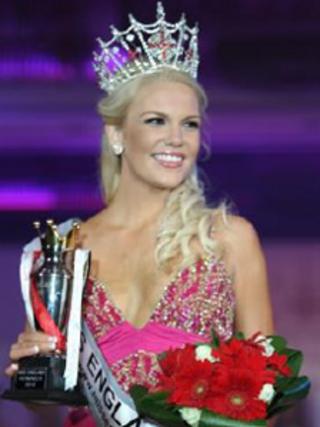 Nottingham students, including the reigning Miss England, have been voicing their opposition to the planned rise in tuition fees.
About 100 students intended to hold a "teach-in" and occupy a room at Nottingham University.
Law student Jessica Linley - crowned Miss England in September - has spoken in support of the action, calling the government plans "unacceptable".
Under the proposals, English university fees will increase to up to £9,000.
Beauty queen Miss Linley is studying law at Nottingham University, where she is also a treasurer of the Law Society and finance officer for the athletics union.
The 21-year-old, who has taken a gap year to carry out her Miss England duties, said: "Raising tuition fees will ultimately lead to more educational inequalities and we will see a dramatic fall in the number of students from disadvantaged backgrounds going to university.
"Only those people with wealthy parents will be able to go and they will be the ones ending up with all the best jobs.
"Young people are now going to have to think carefully about whether it's worth going to university, as they might come away with tens of thousands of pounds-worth of debt and nothing to show for it.
"There are enough barriers in education already and it is sad it has come to this."
But Miss Linley called on those protesting to ensure they remain peaceful, two weeks after a rally in London ended in violence when the Conservative Party's offices were badly damaged.
Liberal Democrat leader Nick Clegg, whose party pledged to vote against increasing university fees in the run-up to the general election, now supports the plans.
Mr Clegg had urged students to examine the government's proposals before taking to the streets.