Baby 'given 10 times salt dose' at Nottingham hospital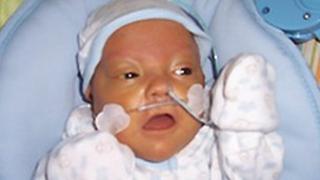 A four-month-old baby died after being given 10 times the prescribed dose of salt at a Nottingham hospital's high dependency unit, an inquest has ruled.
Nottingham Coroner's Court was told two nurses became distracted and gave Samuel McIntosh 50ml of sodium chloride solution, instead of 5ml, in July 2009.
He suffered swelling to the brain after the error at Queen's Medical Centre.
Coroner Dr Nigel Chapman recorded a narrative verdict after saying that Samuel died following a "drug error".
Dr Chapman said there was no doubt that a dreadful mistake had taken place, but ruled that it did not fall into the category of a gross failure.
He recommended the lessons learned from the death should be sent to hospitals throughout the National Health Service.
Samuel was born prematurely at Nottingham City Hospital in March 2009.
Expected to survive
Dr Stephen Wardle told the inquest that Samuel, whose parents are from Mansfield, weighed 580g (1lb 5oz) at birth - a sixth of the normal weight for a full-term baby.
He suffered from lung problems, and had breathing difficulties, and was transferred to the QMC aged 18 days.
Dr Wardle told the inquest that Samuel needed intravenous feeding and had a bowel operation and eye surgery, but his weight eventually rose to 2.8kg (6lbs 3oz) and he would have been expected to survive.
But he was taken ill in early July and staff noticed that his sodium levels were low.
Confirming that Samuel was then given 10 times the correct concentration of sodium chloride in a drip, Dr Wardle said rapid changes in sodium levels could cause swelling to the brain.
Paul Balen, solicitor for Samuel's parents, Robert and Sarah McIntosh, said after the inquest: "The family regret that that the coroner felt unable to return a verdict of unlawful killing.
"They take comfort from the fact that the coroner has made a recommendation that the lessons learned from this disaster should be sent round the National Health Service."
In a statement issued by Nottingham University Hospitals NHS Trust, medical director Dr Stephen Fowlie apologised unreservedly for the failings in care which resulted in Samuel's death.
He said new guidance would reduce the need for the use of concentrated salt solution.
Dr Fowlie added that a system had been brought in to ensure nurses were not interrupted while administering drugs.