'Sleep-out' in Nottingham to highlight homelessness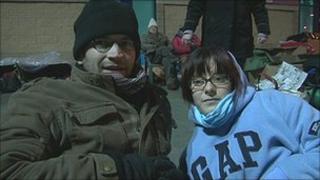 More than 300 supporters of a homeless charity have spent the night sleeping rough in Nottingham.
Framework said the government's spending review might force more people to sleep on the streets because housing services would be affected.
The Big Sleep-out took place in Bolero Square outside Nottingham's Trent FM Arena.
Peter Radage of Framework said the problem went beyond simply sleeping on the streets.
He said: "Homeless isn't just about people who are rough sleeping, it's much broader than that.
"People are facing debt crises for the first time. Homelessness is about keeping people in their homes, supporting those that are there."
The charity hoped to raise more than £40,000 from the night.